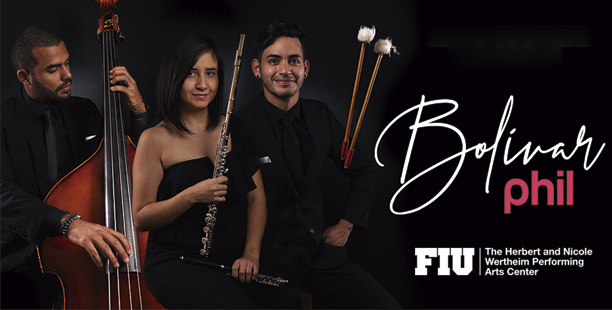 Grand Premiere Bolivar Phil
Bolivar Phil, an orchestra born from ex-members of the most important orchestras in Venezuela seeks to become a musical space of reference for Florida.
Miami.- June 06, 2019. The music brings together a hundred foreign artists of great trajectory, now residents of the United States, who have found in Bolivar Phil the opportunity to continue developing and giving a cultural contribution of high impact on the community.
It is well known that Venezuela has a great production of musicians, because of the work of "El Sistema" (The System of Orchestras), a social program founded and executed by the Maestro José Antonio Abreu, which today is reflected in hundreds of people who have made the Academic music and the orchestra, their way of life. After the migratory phenomenon that Venezuelans live, these musicians are now resident in different parts of the world and Miami is not the exception. High-profile interpreters from other countries have joined this project that seeks to unite all that talent and put it at the service of the cultural movement of Florida.
"It will be an unforgettable concert, full of many emotions, in addition to the high artistic quality that you will enjoy; Bolívar Phil is an orchestra that shows union and love for art" said Anthony Pérez, president of the orchestra and who was trumpeter of the Simón Bolívar Orchestra of Venezuela.
"Beyond the roots of the members of the orchestra, who are of different nationalities, we want this city to feel that the orchestra belongs to them and we also want to represent it at the highest level", said Carlos Aragón, vice president of the orchestra and who plays the French Horn.
Roy García, Cellista, who has lived in Miami for a year with his wife and son, also members of the orchestra, highlights that "Bolivar Phil has the challenge of creating an affinity, a connection between the orchestra and the community, we have a great team of musicians prepared to achieve it ".
"Bolivar Phil has had the support of several entities that have been sensitized with this initiative, we have the firm intention of establishing this group over time and be part of the cultural offer of this city", said the flutist and director of the orchestra, Eva Moreno.
The official presentation concert of the Bolivar Phil orchestra will be on June 30 at 11:00 am in the Herbert and Nicole Wertheim Performing Arts concert hall of Florida International University (FIU). It will feature the great trumpeter, international soloist Pacho Flores, who will delight with his musicality and virtuosity performing the concert for Corno Da Caccia of J.B.G. Neruda and "Cantos y Revueltas" a composition of its own. The orchestra will make its debut under the baton of the outstanding Maestros Javier Mendoza and Carlos Riazuelo.
Tickets: https://www.ticketmundo.com/Evento/Grand-Premiere-Bolivar-Phil/1008
www.bolivarphil.com
IG @bolivarphil_
Facebook: Bolivar Phil
YouTube: Bolivar Phil
E-mail: bolivarphil@gmail.com
Director: Eva Moreno
+1 561 2294351
Media contact:
BrandCom +1 305 7770479